✔ Free 2-5 Days Shipping From USA
''I love how compact these bands are, I take them with me wherever I go! It's a complete workout in a bag!"'
• • •
Crush Your Workout Anytime, Anywhere W/ BeastBands
🔥 Introducing BeastBands™ - the next-level resistance bands home workout system. 

Now you can crush your home workout – without the expensive equipment, and without spending time and money going to the gym. Whether you are up for a full workout, or have just a few minutes, BeastBands™ is the perfect easy at home workout for YOU! 
You have

 

over 150+ unique exercises to choose from and a wide range of resistance/weight, so you can work any muscle group in the body! Get the results (and look) you want quickly and effectively, from the comfort of your own home.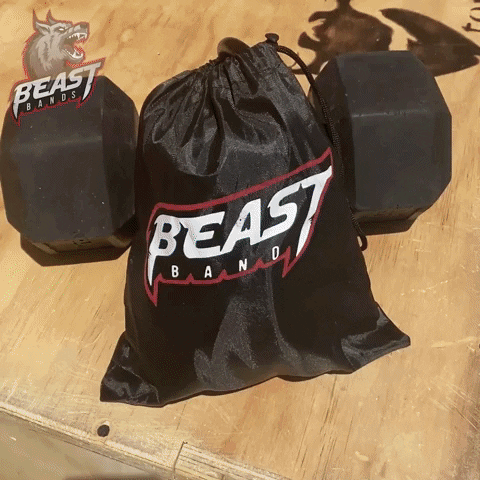 WHAT'S INCLUDED? 📦 
Our 11 piece kit is heavy duty yet lightweight and portable. Workout from home or anywhere on the go!
2x Handles (Anti-Slip)
2x Ankle Bands (Extra Comfortable)
1x Resistance Bands Door Anchor 
1x Storage Bag
1x Extra Light Fitness Band (Yellow) 
1x Light fitness band (Green) 
1x Medium fitness band (Red) 
1x Heavy fitness band 

(Blue) 

1x Extra heavy fitness band 

(Black) 
WHY BEASTBANDS™?

Founded in 2018, BeastBands has emerged as one of the most popular home gym systems in America. Even more exciting, BeastBands donates a portion of proceeds to help fight childhood and adult obesity for a healthier and happier world. 🌎 
☑️ Over 100+ unique exercises for a full-body workout
☑️ Empowers you to exercise more often anytime, anywhere
☑️ Targets all muscles with a heavy duty, yet portable home gym 
☑️ Continuous core activation through positive and negative resistance
☑️ Anyone can use it no matter your fitness level
The BeastBands™ 11pcs Resistance Bands Set is designed with better technology to deliver faster results. You can work any muscle group quickly and effectively, from the comfort of your own home.
TO HELP YOU GET BETTER RESULTS, FASTER...🙌
✅ VERY EFFECTIVE IN BUILDING AND TONING MUSCLE, AND BURNING FAT - Resistance Band Training is proven to achieve the same effective results as freeweights, with all the added benefits of convenience of working out from your own home or when travelling, as well as providing a safe motion and less chance of injury.
With the BeastBands™ stackable weight/resistance range and wide variety of exercises you can build or tone muscle and burn fat, one muscle group at a time, or do a full body workout.
are the benefits of using resistance bands?
✅ WIDE RANGE OF WEIGHT - the BeastBands™ set includes 5 straps of varying resistance, which allow you to mix and match to get your desired weight level - from 10 lbs (4.5 kg) and up to 115 lbs (52 kg), suitable for someone just starting out or an experienced gym shark. Additional straps can be connected for an even higher range.
✅ COUNTLESS EXERCISES - specially designed and includes all the necessary accessories for more than 150 possible exercises for all muscle groups - suitable for any fitness level. Whether you want a a complete body workout, or to work on just your glutes, biceps, abs, or any other muscle group at a time, the BeastBands™ Set is your perfect solution.
🎁 BUY NOW AND GET - a Full Body workout video tutorial (sent to email after purchase).
✅ EASILY SETS UP IN SECONDS - with the included Door Anchor, handles and ankle straps, you can set up the BeastBands™ in seconds. Just choose your desired exercise, set up accordingly, and start your workout. 
✅ WORKOUT EVEN IF YOU CAN'T FIND THE TIME - Have only a few minutes a day, or having difficulties finding the time to work out? No problem! Because of the accessibility and quick and easy set up, BeastBands™ allow you to do a few quick sets whenever you have time, and go on with your day.
✅ SAFE AND EFFECTIVE - the smooth movement and consistent resistance give great results while minimizing chance for injury.
✅ COMPACT AND PORTABLE - easily and compactly folds up for portability and easy storage.
✅ WORK OUT ANYWHERE, ANYTIME - fold and store the set in the included carry bag and take it with you when travelling, for the office, or anywhere else. Now you can work out even when you're away from home! BeastBands™make it easy to have a quick workout in the office at the end of the day before heading home, or maintain your fitness on your business trips.
✅ OVER 100+ RESISTANCE BANDS EXERCISES INCLUDING:
resistance bands rows
resistance bands lunges
resistance bands butt workout
resistance bands chest press
resistance bands hip thrust
resistance bands bicep curls
resistance bands ab workout
resistance bands arm workout 
AND MORE!
| | |
| --- | --- |
| Frame Material: Wood | Seat Material: Wood |
| Adjustable Height: No | Seat Style: Saddle |
| Distressed: No | Custom Made: No |
| Number of Items Included: 1 | Folding: No |
| Stackable: No | Cushions Included: No |
| Arms Included: No | |
| Footrest Included: Yes | Casters Included: No |
| Nailhead Trim: No | Weight Capacity: 225 Kilogramm |
| Commercial Use: No | Country of Manufacture: Vietnam |